About mirror.truenetwork.ru
This service is online since 2017, initiated and formed by GNU/Linux enthusiasts in the Truenetwork Team , to improve the cultural atmosphere of the free software community, and to promote the application of free software.
From here you can take a look at all the mirrors we host, and also take a look at our service statistics and healt status. Truenetwork is funding a mirror archive. The overall capacity is now about 2 x 24 TB total (available disk space RAID10), distributed in two locations of its network.
This archive is available over http, ftp and rsync on both IPv4 and IPv6.
HTTP
http://mirror.truenetwork.ru
HTTPS
https://mirror.truenetwork.ru
FTP
ftp://mirror.truenetwork.ru
RSYNC
rsync://mirror.truenetwork.ru
If you have any issues or comments, please contact the admins via e-mail at mirror@truenetwork.ru
Hardware
Dell PowerEdge R730xd (2 RU)
Intel Xeon E5-2660 (10x 2.6 GHz)
128 GByte RAM (DDR4)
48 TByte storage (gross, 20 x 2.4 TByte HDD SAS) - RAID10 24 TByte
2x 960 GByte SSD (for caching)
2x 10 GBit/sec network connectivity
Traffic last day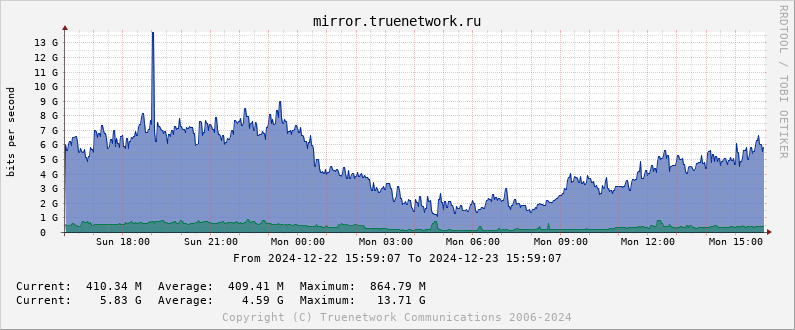 mirror server hosted at Truenetwork, Russian Federation.